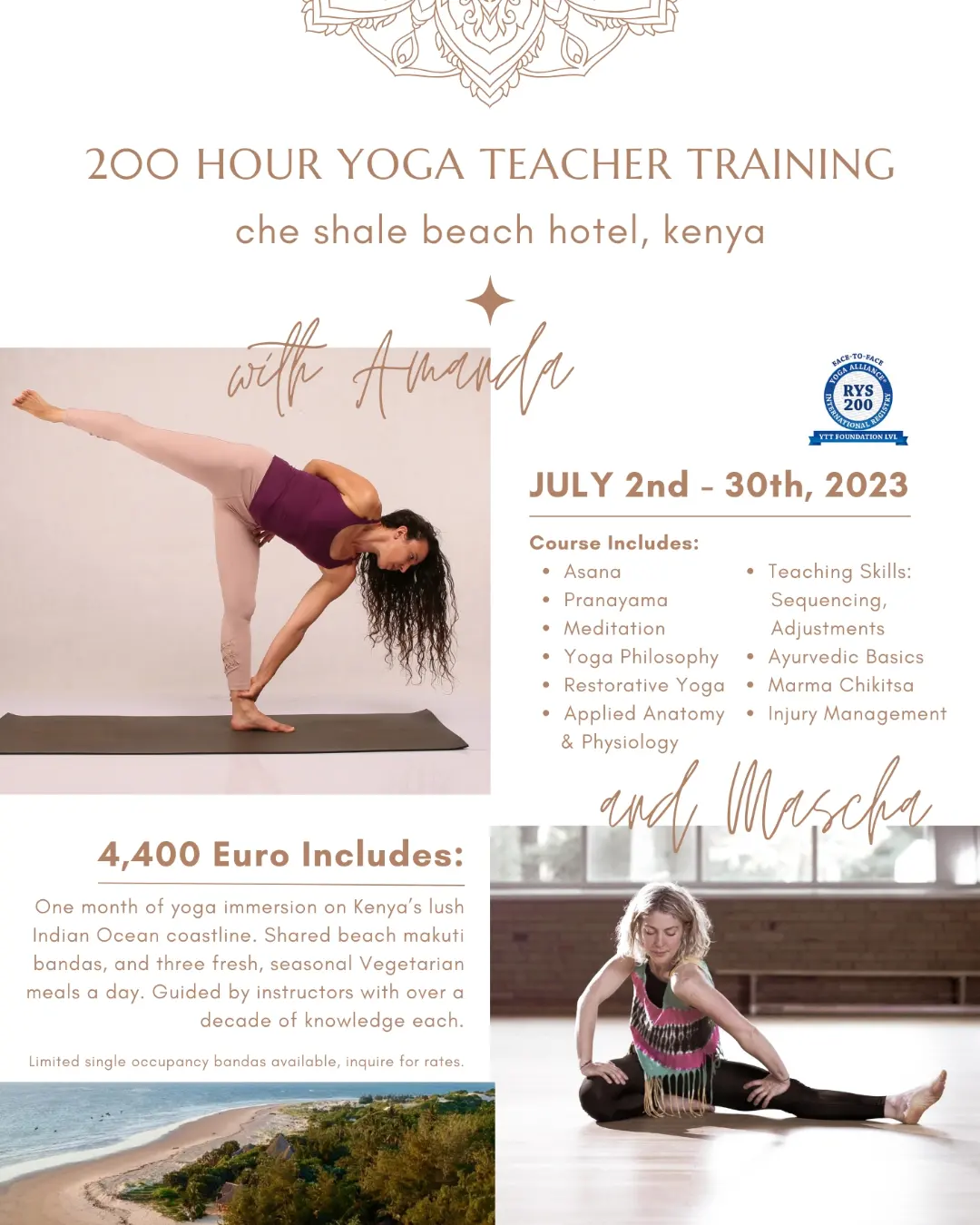 200H Residential Intensive Yoga Teacher Training in Kenya
Immerse yourself in your daily practice of asana, pranayama and meditation.
Have time to reconnect, evolve and heal surrounded by nature in a lush green, stunning location directly by the ocean.
A one-month intensive course provides a unique opportunity to transform your own practice in a safe space with a group of like-minded people.  When we go through this in a group we have the opportunity to learn from bodies unlike our own  The energy created by an in-person group course creates a unique setting for personal transformations and insights.
When we are in an immersion, our attention is completely on ourselves and on our yoga practice, nurturing our mind/body connection.  It is only through our connection to our own bodies that we understand how to connect to other bodies.  This is useful not only for teaching but for connecting to our loved ones and the world in a way that can heighten the quality of our lives and those around us. 
Course Objectives
Basic understanding and application of applied anatomy & physiology in all postures
Safe ways to approach postures and breathe
How to lead a group through an asana practice in a safe and effective way  
Sequencing a class: how to build up to stronger poses and how to release from them 
How to teach from simple to complex versions
Safe adjustments and modifications for people with special circumstances
How to effectively teach visually and verbally instructed classes
How to safely give adjustments
Understanding the guiding principles of yoga philosophy and how to incorporate them into a practice.
Incorporating the knowledge about the main energy points, the nadis, the chakras and the different energy bodies
7 – 8 am
pranayama and meditation
10:30 – 12:30
noon Theory
(see subjects on flyer)
12:30 – 2 pm
lunch and break
2 – 4 pm
teaching skills / applied theory
Some evenings may include Kirtan, Satsang, or Ceremony
 We will adjust the schedule to allow for 2 weekends to be fully off for those that want to organize a safari in Tsavo National Park or a weekend trip inland or further along the coastline.. Venue can assist with organization of excursions. 
Amanda and Mascha's styles are grounded in traditional hatha yoga and heavily influenced by the Ashtanga and Iyengar practices. Their style may be considered a vinyasa flow, though it is so much more as it draws on years of training and exposure to so many lineages. Mascha and Amanda wish to impart on their students a holistic approach and therefore some sessions may be stronger and dynamic while other sessions may be more restorative and regenerative.
The training will also give the attendees a deeper understanding of and connection to the yoga lifestyle. Both instructors value the scientific knowledge that informs the physical asana and pranayama practice and will teach these skills in an applied format so the knowledge is embodied and most likely to be retained. There will be a focus on how to safely apply yoga and modify to all bodies and how to gain the most out of the practice for each body type. Even if you are not on the path to teaching yoga, this is an important personal skill to have, as we all may experience injury or illness from time to time. This is where we start to connect to how yoga reaches beyond the benefits of an exercise, differentiating it from other physical activities.
With the understanding of how to modify and adapt yoga to all conditions, one can experience an even deeper connection to self and the far-reaching benefits of yoga.
Equally valuable is the history of yoga and philosophical components. We believe this portion of the training is essential to tying our practice on the mat together with our daily life and interactions. An understanding of the principles of yoga can shift your perspective on your practice, transforming it in new ways.
YOGA ALLIANCE CERTIFIED
This course is Yoga Alliance certified, requiring a minimum of one-year yoga practice to join the training. Course will be taught in English. Skill level: Beginner to Intermediate. Upon completion of this course and final assessment, you will receive your 200hr Teacher Training Certification, certifying you as a Yoga Instructor. With this you qualify to register with Yoga Alliance International to be a certified yoga instructor under their umbrella as well.
To apply email Amanda at yoganaamanda@gmail.com
COURSE FEES
Course fees are 4400 Euro sharing, Early Bird Special 3900 Euro non- sharing accommodation, saving 500 Euro. Requires 50% deposit before 28th February. After 28th Feb. pay 25% deposit required to secure your spot. Total payment due by 15th May. Non-sharing accommodation available upon request, inquire for rates. Travel expenses and excursions are not included.
TWO LEAD TEACHERS
Offers double the knowledge, giving two unique perspectives and styles of teaching. Both teachers have studied under the guidance of Simon Borg-Olivier and Bianca Machliss from the Yoga Synergy School of Australia. Mascha Schmitz and Amanda Breunig Awuor draw heavily on their in-depth knowledge of anatomy and physiology to inform their yoga teachings. Balanced out with their wisdom of yoga philosophy and the more spiritual aspects of the practice, makes this training well rounded. A certified Ayurvedic therapist, Mascha incorporates this wisdom and love of ceremony into her sessions. Giving us a deep connection to self, a warmth and appreciation of all things. Amanda looks at her classes like a piece of art, bringing in creative flows balanced with a focus on technique. She loves to work with all body types, looking at the body as a puzzle to adapt the yoga practice to.
More on Amanda Breunig Awuor
Her yoga journey began in 2008 when she was studying her master's degree in International Peace and Conflict Resolution in Washington, D.C. It was meditation that first guided her toward the yoga practice. Her late mentor and Professor Abdul Aziz Said taught her the power of meditation and spirituality reminding his students "you cannot create peace in the world until you first create peace within yourself." From there she was drawn to the physical practice of yoga to heal a knee injury from years of running competitively. Once she stepped inside that first D.C. yoga studio, she was forever hooked. It of course brought physical balance and healing, but what kept her coming were the emotional and psychological benefits. Her first teacher training was completed in 2011 under the guidance of Jim Harrington in Cape Town, South Africa where she studied the Ashtanga Primary series. She started teaching yoga full time in Denmark in 2013. She continued her studies, completing two more trainings in Goa, India under Simon Borg-Olivier and Bianca Machliss of the Yoga Synergy School, Australia. Trained and certified physiotherapists, their style is influenced by a profound understanding of anatomy and physiology with an emphasis on safety for all bodies. Her teaching is heavily influenced by their teachings, incorporating spinal movements, fluid transitions, muscle co-activations (bandhas) and the sthira/sukham (steadiness with ease) philosophy. She is constantly evolving her teaching with new techniques and is currently most inspired by embodied practices, the wisdom of the moon cycles, and the guiding wisdom from within. Amanda now resides in her husband´s homeland of Kenya and has been teaching in Neirobi since 2016.
More on Mascha Schmitz
Mascha started her own yoga journey when she was 16, entering her first Sivananda yoga class and instantly knew that she would become a yoga teacher one day. She is a graduated sports scientist, yoga teacher, bodyworker and Ayurveda therapist. She founded Sukha Yoga – Holistic Flow of the Elements in 2012 in Cologne, Germany. Mascha is practising yoga since 1996 and teaches since 2005. Over the last two decades she was traveling the world deepening her understanding about the healing aspects of yoga and Ayurveda. She is constantly expanding and evolving her knowledge about the human body and the wisdom of yoga while studying with international teachers such as Bianca Machliss and Simon Borg-Olivier (Yoga Synergy, Australia), Lance Schuler (Inspaya Yoga, Australia), Ana Forrest (Forrest Yoga, USA), Anne Heydenreich and David Winch (Soboco Yoga, Cologne), David Williams (US) Sita Menon (Evolve Yoga) and Jambo Dragon (UK). Her classes are are based on working with the elements. She combines dynamic Hata Yoga, with Marma Chikitsa (the Energy Point System) and the Restorative Yoga Method (creating synergies between the different parts of the brain and releasing trauma). Mascha loves to create a space for healing and transformation and is using ceremony in her teaching to adjust the body and mind to process and accept changes.
SERENE LOCATION
The secluded beach enhances the retreat vibe, giving us the space to let go of the distractions of the "outside" world. The beauty of the ocean, quiet beach and surrounding nature calms the nerves, promoting a softening inward. For those who've never been to Kenya, it is also a chance to experience a different culture and lifestyle. This in itself encourages transformation. Vegetarian/vegan food inspired by Kenyan coastal cuisine and traditional asian and ayurvedic inspired dishes. Menu handcrafted for this event. We place a high priority on nourishing and easy to digest food!
Accommodation
All the charm and quiet of nature is captured in 8 uniquely designed, castaway chic style bandas that combine laidback style and attention to detail. All our bandas are tucked amongst lush vegetation for privacy and are all situated mere meters from the Indian Ocean.

To get an even better impression of the beauty of Che Shale feel free to visit the venue´s website: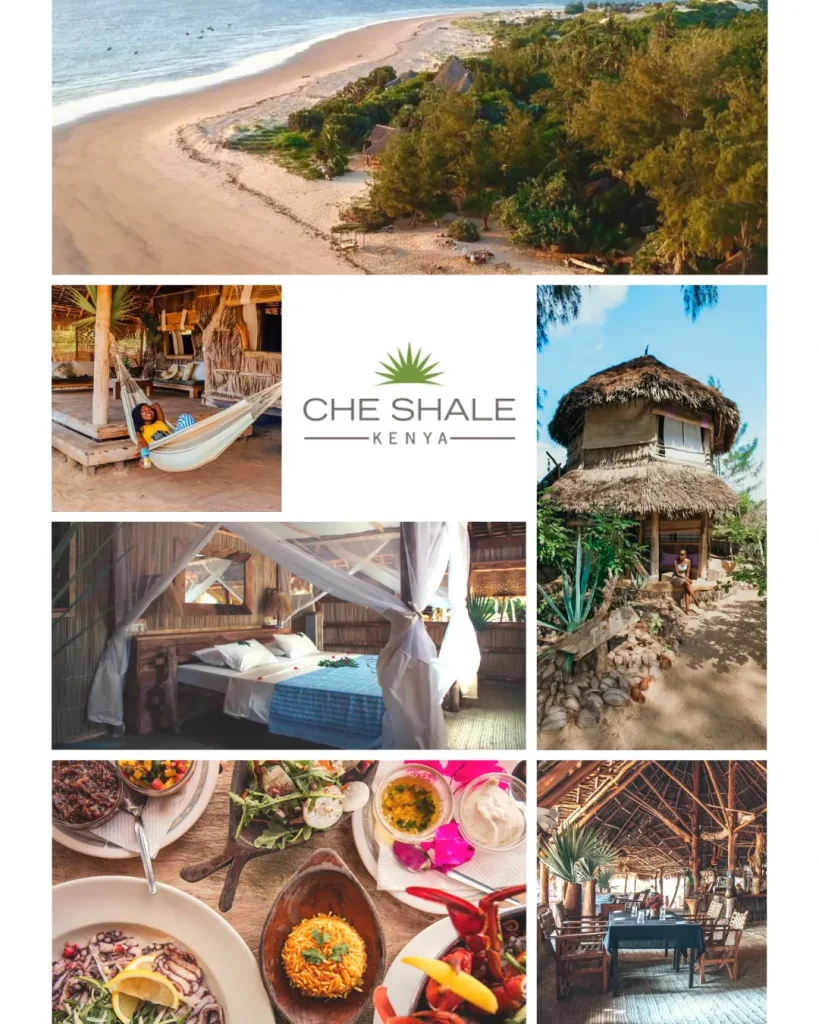 To apply for the training email Amanda at yoganaamanda@gmail.com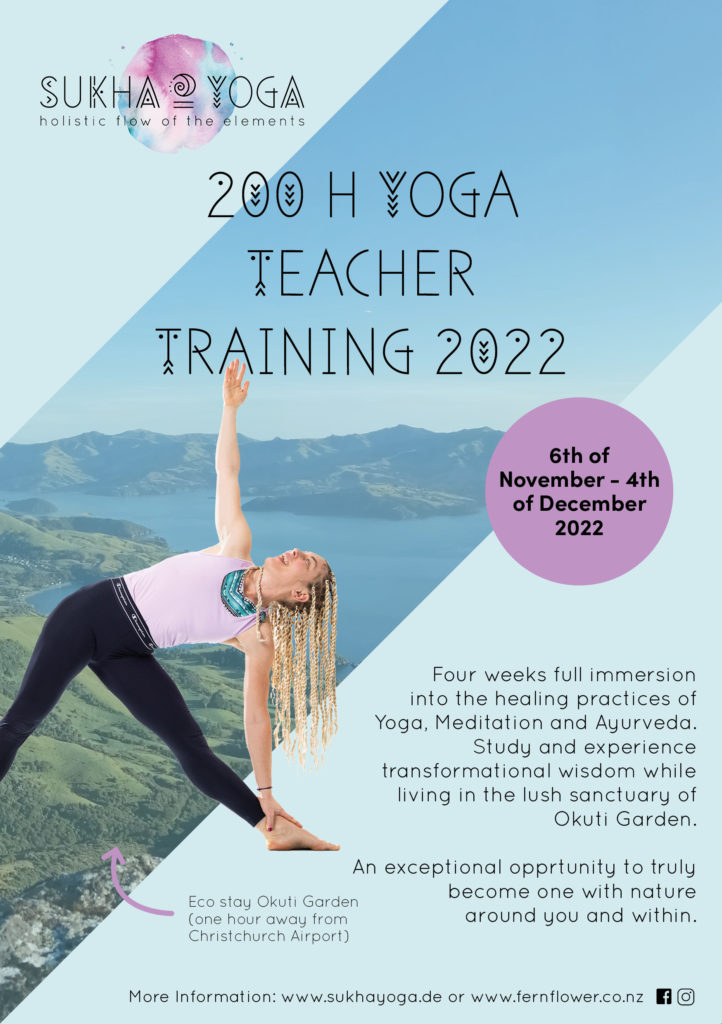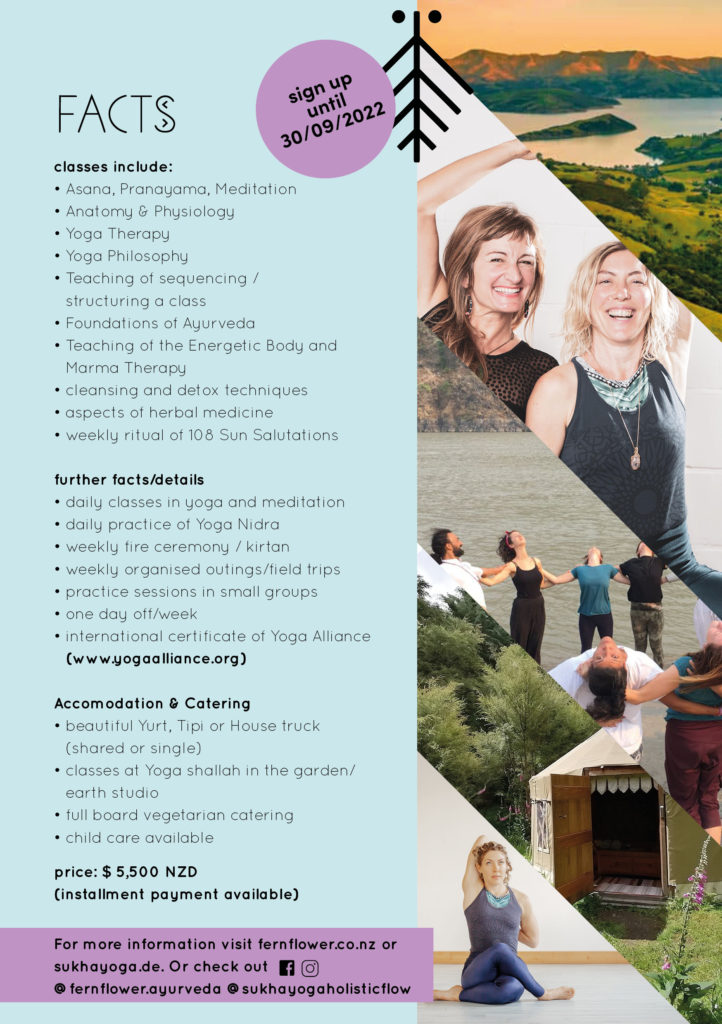 ​
Imagine a month of yoga study within fields of wildflowers, magical skies and beautiful eco design structures. Reset your senses and tune into your own nature in the safe and pristine elements of New Zealand.
​A chance to explore the healing power of Yoga and Ayurveda while deepening your own yoga practice and retreat from everyday life.
Live and study in an abundant, lush and healthy organic environment surrounded by the elements. Study in small groups and enjoy personal mentoring.
We´d love for you to be part of this life changing and empowering experience. For more resilience and deep harmony, for yourself or to guide and teach others, on their path.
This four week intensive teacher training is your solid foundation for teaching yoga while you deepen your own practice. Your days will be filled with the many aspects of yoga including asana classes, meditation, pranayama, cleansing techniques, yoga nidra, marma points and lectures on applied anatomy and physiology, ayurvedic principles, yoga philosophy, yoga therapy and more.
​The practice oriented style of teaching gives you a chance to experience the divers subjects with all senses.
The classes take place in the Garden Yoga Shallah` and the´Earth Studio´on site surrounded by the vast and beautiful garden.
​
One day per week is to your own leisure, study or adventure on the Banks Peninsula. Incredible night skies, many bushwalks and the beautiful beaches with their local resident seal, penguin and dolphin colonies are at your doorstep. However, we will take you on field trips around the Peninsula every Saturday where you get to experience some magical spots and meet the wonderful locals.
​
Your accomodation is on site of Okuti Garden either in a yurt, tipi or housetruck. Comfy beds, candle light and hot water bottles ensure you can restore deeply while enjoying a month with little electricity and next to no radiation other then from your own energy body.
​
Full board healthy organic vegetarian catering is included six days a week. The food is partly from the garden you are living in, always organic and freshly prepared on site. Sundays you are free to explore the culinary delights around you.
​
The bundle we created for you is as vibrant and abundant as the venue itself. Daily yoga nidra, weekly kirtans, the weekly ritual of 108 sun salutation and ceremonies are adding to your full immersion into the yogic lifestyle and transformational effects.
Cost: $ 5500 NZD (3500€) Deposit of 10 % to secure your spot
The remaining balance is due upon arrival. Installment payment is available.
​
This 200 hrs YTT is aligned with the International Certificate of Yoga Alliance Internatinal. Your certificate is globaly recognised.
​
The Yoga Alliance ask for a minimum of one year yoga practice to join the training. The teaching language is english.
Styles of yoga that will be taught:
Holistic Vinyasa Yoga, Hatha Yoga, Marma Chikitsa, Ayurvedic Yoga, Restorative Yoga
Skill Level:
Beginner or Intermediate
Food:
Vegetarian, Organic, Dairy-free, Sugar conscious, Ayurvedic Recipes
​​
What Makes This Teacher Training Special
This 200hr course is for everyone who seeks a foundational Yoga teacher training but is also interested in the complementary wisdom of Ayurveda. It is for those who do not want to study content only, but want to immerse themselves into the yogic lifestyle in a residential course.
By applying and living the principles you study, you gain a deeper insight and understanding plus you get to enjoy the beneficial effects in your own life.
​
While we study the holisitc flow of the elements in the ayurvedic routine and yoga classes, the venue itself is a humble teacher in the background. Displaying the cosmic interplay of the elements as it provides shelter, creates diversity, beauty and contributes to a deeper understanding of resilience and harmony.
This teacher training with its ceremonies, healthy rituals and nature field trips is a life changing experience, igniting your soul and senses.
MASCHA SCHMITZ Sukha Yoga Cologne
is a graduated sports scientist, yoga teacher and ayurveda therapist. She founded Sukha Yoga – Holistic Flow of the Elements in 2012. Mascha is practicing yoga since 1996 and teaches since 2005. She is constantly expanding and evolving while studying with international teachers. Mascha will be your principal teacher – her classes include Asana, Pranayama, Meditation, Yoga Philosophy, Yoga Therapy, Anatomy, Marma Therapy, Alignment and Sequencing.
Sukha Yoga is accredited school of Yoga Alliance International.
​
​
CHRISTINE KIELTYKA Fernflower Ayurveda Aotearoa
is a graduated sports scientist, yoga teacher, ayurveda- and massage therapist. She founded her own Holistic Health & Ayurveda Institute in 2021. Christine is co hosting and facilitating this teacher training . She lives and works in Okuti Garden since 2014, currently expanding her ayurvedic knowledge into local medicinal plants. Her classes include the foundation of Ayurveda, explaining the correlation of the elements around us and ourself, aspects of nutrition and cleansing techniques.
Together they will be guiding you through daily Yoga Nidra, weekly Kirtans and ceremonies.