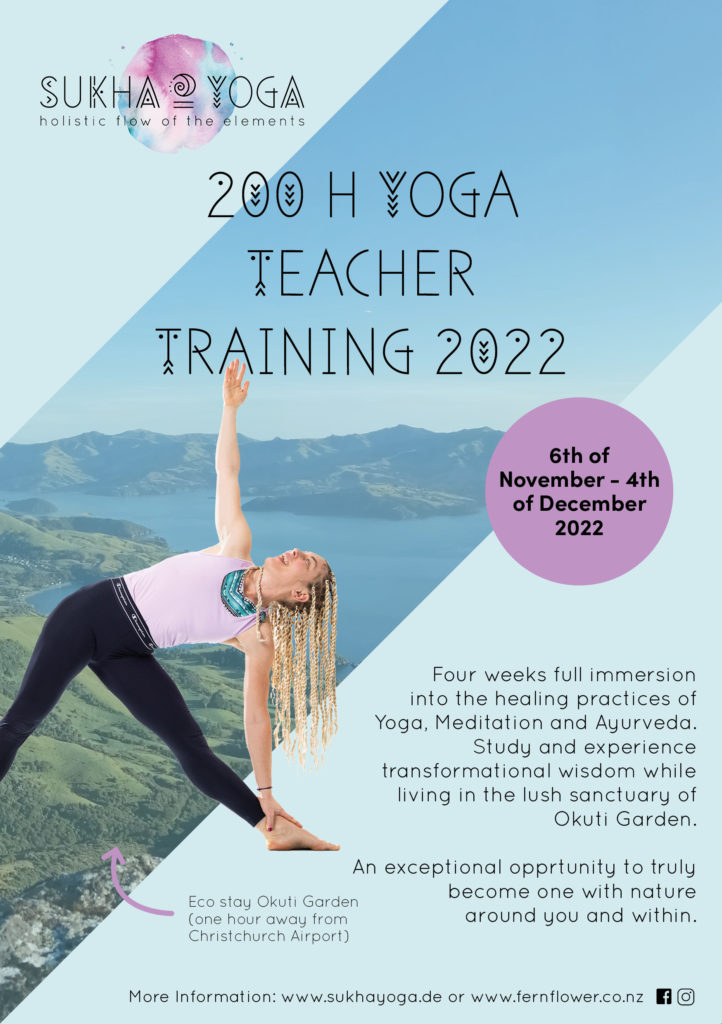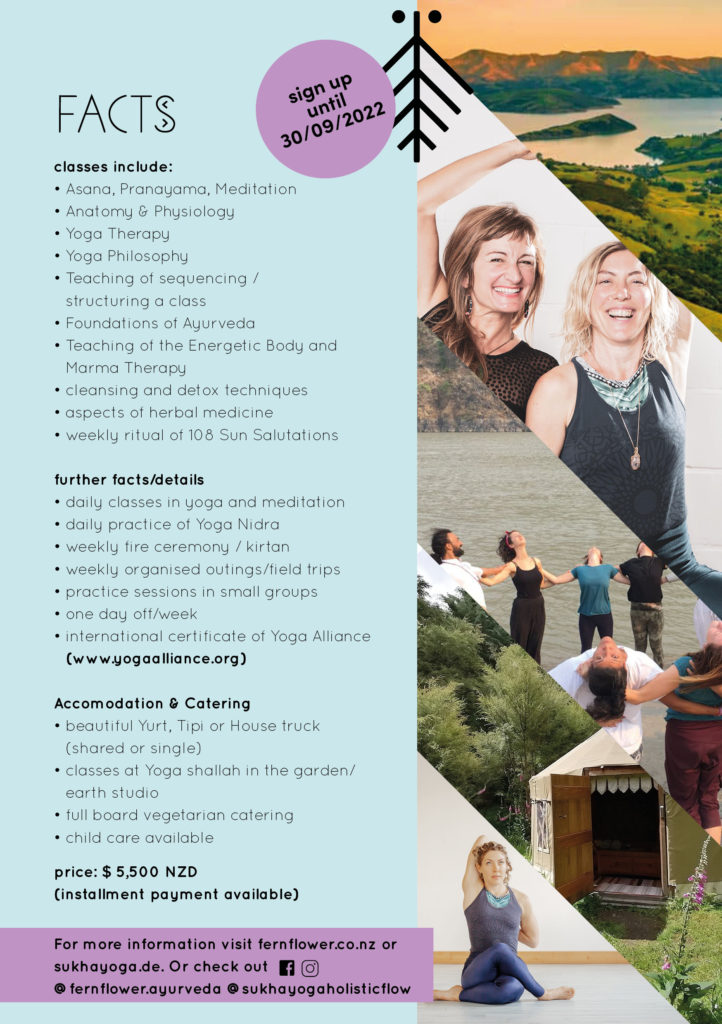 ​
Imagine a month of yoga study within fields of wildflowers, magical skies and beautiful eco design structures. Reset your senses and tune into your own nature in the safe and pristine elements of New Zealand.
​A chance to explore the healing power of Yoga and Ayurveda while deepening your own yoga practice and retreat from everyday life.
Live and study in an abundant, lush and healthy organic environment surrounded by the elements. Study in small groups and enjoy personal mentoring.
We´d love for you to be part of this life changing and empowering experience. For more resilience and deep harmony, for yourself or to guide and teach others, on their path.
This four week intensive teacher training is your solid foundation for teaching yoga while you deepen your own practice. Your days will be filled with the many aspects of yoga including asana classes, meditation, pranayama, cleansing techniques, yoga nidra, marma points and lectures on applied anatomy and physiology, ayurvedic principles, yoga philosophy, yoga therapy and more.
​The practice oriented style of teaching gives you a chance to experience the divers subjects with all senses.
The classes take place in the Garden Yoga Shallah` and the´Earth Studio´on site surrounded by the vast and beautiful garden.
​
One day per week is to your own leisure, study or adventure on the Banks Peninsula. Incredible night skies, many bushwalks and the beautiful beaches with their local resident seal, penguin and dolphin colonies are at your doorstep. However, we will take you on field trips around the Peninsula every Saturday where you get to experience some magical spots and meet the wonderful locals.
​
Your accomodation is on site of Okuti Garden either in a yurt, tipi or housetruck. Comfy beds, candle light and hot water bottles ensure you can restore deeply while enjoying a month with little electricity and next to no radiation other then from your own energy body.
​
Full board healthy organic vegetarian catering is included six days a week. The food is partly from the garden you are living in, always organic and freshly prepared on site. Sundays you are free to explore the culinary delights around you.
​
The bundle we created for you is as vibrant and abundant as the venue itself. Daily yoga nidra, weekly kirtans, the weekly ritual of 108 sun salutation and ceremonies are adding to your full immersion into the yogic lifestyle and transformational effects.
Cost: $ 5500 NZD (3500€) Deposit of 10 % to secure your spot
The remaining balance is due upon arrival. Installment payment is available.
​
This 200 hrs YTT is aligned with the International Certificate of Yoga Alliance Internatinal. Your certificate is globaly recognised.
​
The Yoga Alliance ask for a minimum of one year yoga practice to join the training. The teaching language is english.
Styles of yoga that will be taught:
Holistic Vinyasa Yoga, Hatha Yoga, Marma Chikitsa, Ayurvedic Yoga, Restorative Yoga
Skill Level:
Beginner or Intermediate
Food:
Vegetarian, Organic, Dairy-free, Sugar conscious, Ayurvedic Recipes
​​
What Makes This Teacher Training Special
This 200hr course is for everyone who seeks a foundational Yoga teacher training but is also interested in the complementary wisdom of Ayurveda. It is for those who do not want to study content only, but want to immerse themselves into the yogic lifestyle in a residential course.
By applying and living the principles you study, you gain a deeper insight and understanding plus you get to enjoy the beneficial effects in your own life.
​
While we study the holisitc flow of the elements in the ayurvedic routine and yoga classes, the venue itself is a humble teacher in the background. Displaying the cosmic interplay of the elements as it provides shelter, creates diversity, beauty and contributes to a deeper understanding of resilience and harmony.
This teacher training with its ceremonies, healthy rituals and nature field trips is a life changing experience, igniting your soul and senses.
MASCHA SCHMITZ Sukha Yoga Cologne
is a graduated sports scientist, yoga teacher and ayurveda therapist. She founded Sukha Yoga – Holistic Flow of the Elements in 2012. Mascha is practicing yoga since 1996 and teaches since 2005. She is constantly expanding and evolving while studying with international teachers. Mascha will be your principal teacher – her classes include Asana, Pranayama, Meditation, Yoga Philosophy, Yoga Therapy, Anatomy, Marma Therapy, Alignment and Sequencing.
Sukha Yoga is accredited school of Yoga Alliance International.
​
​
CHRISTINE KIELTYKA Fernflower Ayurveda Aotearoa
is a graduated sports scientist, yoga teacher, ayurveda- and massage therapist. She founded her own Holistic Health & Ayurveda Institute in 2021. Christine is co hosting and facilitating this teacher training . She lives and works in Okuti Garden since 2014, currently expanding her ayurvedic knowledge into local medicinal plants. Her classes include the foundation of Ayurveda, explaining the correlation of the elements around us and ourself, aspects of nutrition and cleansing techniques.
Together they will be guiding you through daily Yoga Nidra, weekly Kirtans and ceremonies.